WP Fix It To The Rescue
Want to know a Web Designer secret?  Shhhhh don't tell anyone!!!!!  Sometimes we need help too!  I KNOW hard to believe, some of us (yes, I include myself in this judgement) act like gurus, specialists, WP Hacks, overcoming ANYTHING WP can throw at us.  But sometimes one little piece of code can turn our world upside down.  WordPress is a Business Dream that can often turn into a nightmare at the drop of an update!
So who do YOU turn too?  Often our prices aren't for everyone although we strive to be competitive in the marketplace.  So we search out businesses who are thinking outside of the box to help those in the midst of their nightmares and updates.
If you haven't heard of WP Fix It, let us introduce you!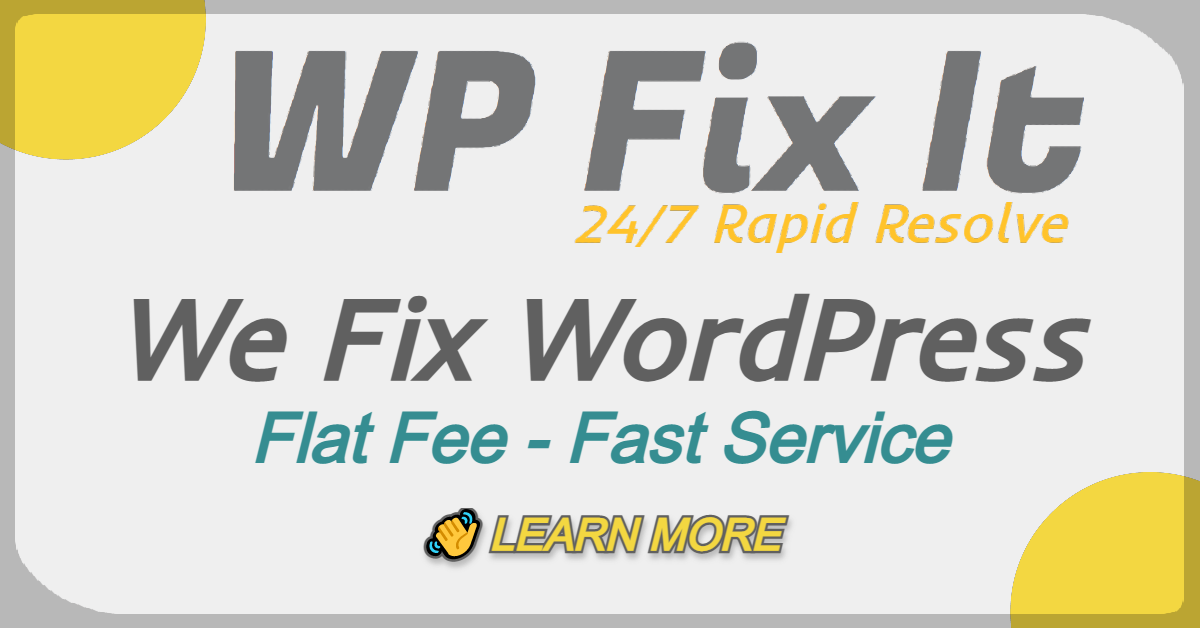 If It's Broke: WP Fix It
What can WP Fix It do for me you ask?  Well take a look:
GENERAL SUPPORT
Are you having an odd issue with your WordPress site? They can fix it for you right away for a flat one time fee of $39. EASY!
INFECTION REMOVAL
This very detailed service will make sure your WordPress site is fully cleaned and secured to prevent future infections.
SPEED SERVICE
Want to take your site from slow to FAST? This service will identify and repair all the speed issue you are having on your site.
INFECTION INSURANCE
Keep peace of mind knowing that if your WordPress site ever gets infected or hacked, they will clean it out right away
SECURITY MONITORING
They offer a detailed Security Monitoring Service which is like having a full time watch dog on your WordPress site.
SITE TUNE UP
Not sure if all is working as it should? Allow them to do a WordPress Tune Up and check the key function points on your site.
WOOCOMMERCE CHECKUP
Running an online store can be a lot of work. They can verify all is working as it should and provide a detailed report on any issues.
WordPress Support To The Rescue!
KEEP IT SAFE
This is their Keep It Safe plan. They will provide daily backups and monthly updates of your site as well as 1 FREE support ticket.
BACKUP/RESTORE SETUP
Having a good Backup/Restore strategy is critical to making sure you are ready for the worst. They can set this up for you FAST!
SSL HTTPS SERVICE
It is so important that your site loads using HTTPS. This will make your site safer and help your Google ranking. They can help do it.
SITE MIGRATION/CLONE
They will migrate or clone your WordPress site to any location of your choice fast and pain free with no issues.
PHP 7 + COMPATIBILITY
Their agents will complete an extensive site review to ensure your site is running smoothly on PHP 7 with no issues.
GDPR COMPLIANCE
Their GDPR Specialist will complete an extensive review site to check for any GDPR non-compliance that needs to be fixed.
SEO REPAIR AUDIT
Their Search Engine Specialist is ready to take a detailed and comprehensive look into your site for maximum search exposure.
What are you waiting for?  Don't believe the old adage that says "if it ain't broke, don't fix it"!  In the world of WordPress, plugins, marketing, business, internet, yadda yadda…things are forever changing, growing, shifting, updating, and we need to stay one step ahead.
Best be prepared than left on the lurch due to some yahoo with nothing better to do than ruin our lives by hacking into our sites just to prove they can!  Oh yes, it's even happened to us! Noooo I am not bitter, not at all, just had to spend over a week fixing the issue! And if WP Fix It was here then it would have been fixed in a jiffy!
Hope WP Fix It's WordPress support helps you continue to flourish in your business, it has in ours!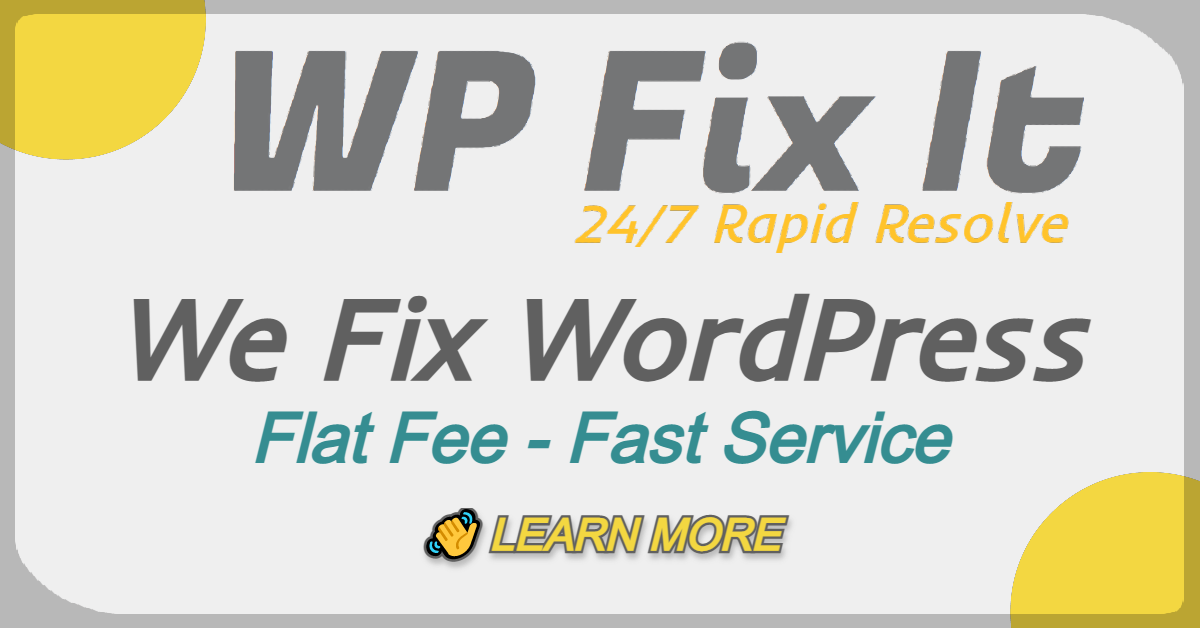 ?
Share your experience with WP nightmare updates and how you got through them.
MORE GREAT WORDPRESS RESOURCES: